Programs
Children Learning Ultimate Behaviors (CLUB)
CLUB is a program where children (ages 6 – 18) meet in a safe environment to engage in experiential activities that promote personal accountability, goal setting and positive self-esteem. Participants are introduced to new words and concepts that assist them in discovering their untapped potential.
At CLUB, we show children that we care about their overall success while exposing them to concepts and skills that are designed to improve behavior, increase learning and inspire them to be great; thus decreasing their likelihood of becoming 'just another statistic' (e.g., another high school dropout, another pregnant teen, another juvenile delinquent, etc.). Our goal is to teach children ultimate behaviors so that they can become positive contributors of society.
At CLUB, children learn, have fun and develop confidence in themselves and their ability to excel in life.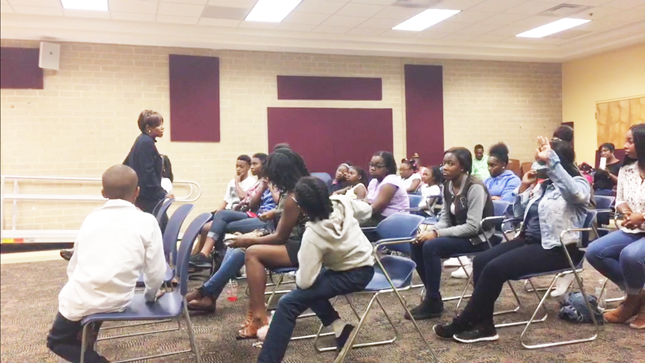 Summer Internship Program
The AnnieRuth Foundation's Summer Internship Program affords high school students the opportunity to work part-time in a real-life setting, learn new skills and earn money for their future.
Connecting high school students with local professionals is an excellent way to prepare them for their future. The AnnieRuth Foundation's Summer Internship Program does just that!
Through this program, local high school juniors and seniors must meet eligibility requirements in order to compete for a summer job opportunity. The program places a strong emphasis on professional development and essential workforce skills. The business recipient takes pleasure in mentoring the intern; providing training, tools, and resources while setting the intern on a good path to be successful in the years to come. Interns work part-time in a safe, professional setting that aligns with their career aspirations.
At the AnnieRuth Foundation, we believe that preparing our youth is vital for a successful future!
Register Today!
2022 Summer Internship Program
The Parenting Network
Parents are often challenged with having to juggle their career, raise children and at the same time, ensure that their own needs are properly attended. The Parenting Network provides a forum for parents to network, exchange ideas and support one another while obtaining relevant information in an effort to make informed life decisions.
Born Learning Curriculum (birth to 5 years)
At the Parenting Network, our certified professionals use the Early Learning Coalition's "research based" Born Learning curriculum to facilitate workshops to parents with children between the ages of birth to 5 years old. This fun and easy to understand parenting education program increases parent's knowledge, improves parenting practices and increases their children's school readiness!
Nurturing Parenting Curriculum (parents of adolescents)
Our certified professionals also use the Nurturing Parenting curriculum. This program is designed to stop dysfunction and engage individuals (and families) in the process of building positive nurturing beliefs, knowledge and skills.
Both programs provide basic parenting skills for those who have had their children legally removed from the home, those who are on the verge of having their child removed from the home, those who are required to go through the certification program as a requirement of the facility or those who simply want to learn basic parenting skills.
At the AnnieRuth Foundation, we endeavor to challenge, motivate and equip parents with tools and techniques in an effort to become a better parent!
Health and Wellness
Vice President of the AnnieRuth Foundation, Solomon Coles and volunteer Sherika Perry take time to explain the benefits of eating fresh fruits and vegetables in an effort to minimize the likelihood of being diagnosed with childhood illnesses and diseases.
Experts agree that children who develop healthy eating habits are less likely to be diagnosed with childhood illnesses.  The AnnieRuth Foundation's health & wellness program is facilitated in elementary schools that are located in neighborhoods deemed as food desserts. The program affords students the opportunity to participate in interactive discussions and small group exercises while learning the importance of eating healthy foods in an effort to minimize their chances of being diagnosed with illnesses and diseases such as juvenile diabetes, childhood obesity, high cholesterol and high blood pressure. Samples of fresh fruits and vegetables, purchased from our local Farmer's Market and pre-packaged by local businesses, are given to students to take home and enjoy.
The program also illustrates how routine exercise plays an essential role in maintaining a healthy lifestyle.
If you would like to sponsor a health & wellness presentation at a school in your community, please contact 904.327.7756.