Dale Moe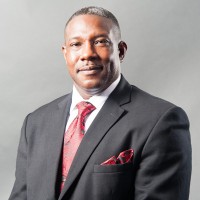 Dale M. Moe was born on the island nation of Trinidad and Tobago. His family moved to the U.S. when he was 2 years old. After living in New York for 8 years, his family moved to Houston, Texas. It was in Houston where Mr. Moe joined the Navy, served our nation for 22 years with pride and honor and retired as a Navy Chief.
Currently, Mr. Moe is a government contractor working for Honeywell at Blount Island. He is a dedicated member of The Church of the Risen Lord where he serves on the Deacon Board. Mr. Moe volunteers as a life coach/mentor at Operation New Hope, a member of the Transportation Club of Jacksonville and a Parent leader for Girl Scouts of America, Oceanway Chapter. Mr. Moe's passion to serve others has guided him to join the AnnieRuth Foundation's Board of Directors where he is looking forward to making a positive impact on Jacksonville communities.
Mr. Moe recently received his Certification in Transportation and Logistics (CTL) from the University of North Florida.