Sgt. Major Debra J. Wilcox Scholarship Fund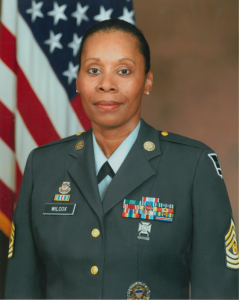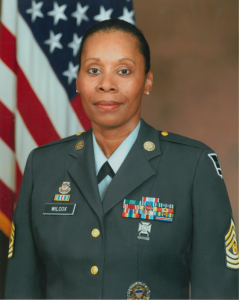 Sergeant Major Debra J. Wilcox, a Jacksonville native, was born October 14, 1959. She graduated from Paxon Senior High School in 1977 and took the oath of enlistment in the US Army on August 19, 1979. She subsequently completed Basic Training and Advanced Individual Training at Fort Jackson, South Carolina.
Wilcox's civilian employers included Aerospace Corporation and the Department of the Army Inspector General Agency.
Wilcox had an ongoing, self-motivated pursuit of learning. Her military and civilian education includes earning a double Masters in Interdisciplinary Studies and Business Administration (MBA). Her pursuit of learning fueled her to earn numerous graduate certificates, complete primary leadership development courses, basic and advanced non-commissioned officer courses, personnel, administrative and training management courses. Wilcox is also a graduate of the US Army Sergeants Major Academy.
Wilcox was a regular on Soul Train where she expressed her passion for the art of dance. After Soul Train, she taught dance instructions to aspiring performers. Wilcox also led a hand dancing group at Andres Air Force Base Officer's Club (Suitland, MD) and performed karaoke with friends.
Wilcox was a loving daughter, sister, auntie, cousin and friend. She was the granddaughter of Ruth "AnnieRuth" Kearney.
Wilcox departed this earth October 22, 2015, after giving 35 years, 9 months and 19 days of service to our country. She now rests in Arlington National Cemetery (Arlington, VA).
Military Assignments
Information Management Specialist, Joint Staff, DOM; Administrative Sergeant, Defense Intelligence Agency; Command Sergeant Major, 436th Transportation Command; Command Sergeant Major, 3/318th MP OSUT; Ft Bliss, Texas; Administrative NCO, J-5; Training Chief Instructor, HQ/6/80th DIV; NCOIC DCSPER, 5115th Garrison Support Unit; Force Management NCO, 97th ARCOM; PAB NCOIC, 318th Reception Battalion; Test Administrator, MEPS Los Angeles; Mail Clerk, Fort Rucker, AL; Administrative Specialist, 43rd USA Artillery Detachment, Germany.
Awards & Decorations
The Defense Meritorious Service Medal (1st OLC), Army Commendation Medal, Joint Service Achievement Medal (3rd OLC), Army Achievement Medal (4th OLC), Army Good Conduct Medal, National Defense Service Medal (w/Bronze Star), Global War on Terrorism Service Medal, Armed Forces Reserve Medal (w/M, Silver H), NCO Professional Development Ribbon (w/Numeral 4), and the Overseas Service Ribbon.
---
Scholarship Eligibility
Current 12th grade student
Maintains a 3.0 GPA
Is a member of the Reserve Officer Training Corps (ROTC)
Received college acceptance letter
Scholarship Selection
The organization will select 1 scholarship recipient in June of each year.  The recipient will receive $1,000 paid directly to the student.  Selection criteria will focus on academic ability and achievements, persistence and leadership abilities.  A rigorous application review includes:
A 1,000 word, original essay; highlighting candidate's reasons for wanting to pursue a military career, demonstrated leadership skills and commitment to excellence.
2 letters of recommendation (one scholastic; one personal, non-family related)
School transcripts
Application Timeline
The application, essay, letters of recommendation, transcript, and college acceptance letter are due by June 30.  Scholarship semi-finalists will be notified by July 31.
How to Apply
Click on the link below to download the application. Save the file on your desktop or USB. After completing and saving the application, click on the 'Choose File' button to locate and upload. The name and email fields are required fields.